We have taken great interest in feeding our Bostons and we have tried many different dog foods over the years. Very often, we will find a food we like, only to have the company bought out by a large company who cheapens the food by changing the ingredients and the dogs no longer do well on it. Such was our experience with the Iams company. We used their Eukanuba Adult Premium Performance food for a number of years while we were no longer able to find Nutro in our area (we originally used Nutro). Proctor and Gamble bought the Iams company (who makes Eukanuba) and the food stayed the same - for a year - then it no longer looked or smelled the same. My dogs started to lose weight and their coats were no longer shiny. I found stiff pieces of what looked like fingernails sticking out of the kibble - so sharp, they would cut my fingers! I thought "what is this doing to the stomachs of my dogs??" So, we sought out a source for our old favorite Nutro's Natural Choice High Energy, and my dogs began eating it again - it was finally available in our area again!
But as of March/April 2007, the quality control at Nutro had started to suffer - and guess what - I found out that they were bought out by Bain Capital Partners, so it appears they have succumbed to the lure of the almighty dollar as just like so many other dog food companies. About every other bag of Nutro Natural Choice High Energy has given my dogs very loose stools, so something is very wrong.
Dog Food Recall, (March/April/May 2007) - and then we had had the big dog food recall - and Nutro's cans and pouches were involved. So now the truth comes out - their wet foods are made in the same factory as cheap store brands such as those sold in Wal-Mart ('Ol Roy, etc). I have chosen to stop feeding Nutro to my dogs after many, many years of being so happy with their food - I can no longer recommend it. Here is the list of dog food companies and which big companies own them - none are run only by "themselves" anymore. Additionally, many contract out to God-knows-who to make some of their foods, as we have seen in the recall situation.
Champion Pet Foods only makes their own Orijen and Acana foods (in Canada)

August 10, 2008 - Mars recalls Pedigree due to salmonella and problems suspected at Mars-owned Nutro still bubbling...

Apparently there is more illness happening with Nutro that has resolved when switching to another food. This is the kind of thing I was finding when I stopped using it. Some employees have quit because of the company's lack of concern on the issue, plus they are laying people off and there is a shortage of food on the shelves. A global shortage on lamb? I doubt that. Maybe the ROADKILL lamb... I know I sent a sample of food in back then and they said it was ok - NOT! The color was different that other bags and all the dogs were getting diarrhea and were looking horrible. They just will not admit to problems. Anyway, here is the pedigree link - for more Nutro info, click the links in the column to the right of this article ("Expert Finds Unexplained Pet Deaths 'Not Consistent').





Your Euthanized Dog Or Cat May Be On The Way To Being An Ingredient In Your Next Bag Of Dog Food (yes, really)

Someone I know from my Boston Terrier mailing list told me she found a suture in a piece of kibble from her premium dry dog food (Natura Innova Senior Plus). See the pictures below.

The company said they had no idea how this could have gotten into the food. Here is what my friend said about her experience sending the kibble with suture in to the company for analysis:

"I too thought I was feeding the "top" dry food (Innova - I feed 3 different varieties) for many years. Until....a couple of months ago I found a suture in the kibble of the Senior Plus. I had taken pictures and shown it to my vet for proof. I also worked for a vet for 17 years so I knew what I was looking at. The knot in the material told all, it was a knot used only in sutures and in fishing line so it does not slip. Well after sending the piece in for Natura to check it out, their findings "connective tissue". My response "BU*L**HIT!" But then I did apologize because after talking with the company VP it hit me and I do believe it hit him. Yes indeed it could have been connective tissue "cat gut" (used to make sutures). But why did it not cook down?? He did agree it could have been, but either way it should not have been in there ....well gee no kidding, imagine my surprise when I found it in my old girls bowl. I asked them to send back the sample for me to have another look since we could not agree as to what it was.....yep you may have already guessed what happened to the sample. In the trash. Of course he assured me this was not normal procedure since they need to save everything. Personally this was a pretty interesting foreign object, so why the heck wouldn't they save it?"

This got me thinking, and after doing some reading, it became clear to me how it happened: animals who had had been euthanized after having unsuccessful surgeries (whose owners choose not to bury or cremate their pets), are picked up by a company the vets contract out to (usually weekly) and the animals are then sent to a rendering plant. To read Wikipedia's online definition of what rendering is, see here. After reading a book on the subject, I learned more about it. PLEASE buy this book to read more - you will never see dog food the same again. Read some excerpts about dead companion animals being used in pet food here. Also, see the video below.

Then before I had heard about my friend's experience, I bought a bag of Natura's Innova EVO Red Meat Small Bites since this food seemed to be the up and coming "thing to feed" amongst breeders (I fed it for 2 nights and they all got black diarrhea), so upon looking closer I could see all kinds of things sticking out of the food. This is supposed to be a grain-free food. A friend who has some of my dogs also tried it but said the stools were always bad on it and she stopped using it too. I scanned a piece of kibble from this EVO Red Meat Small Bites formula, and here is what I saw: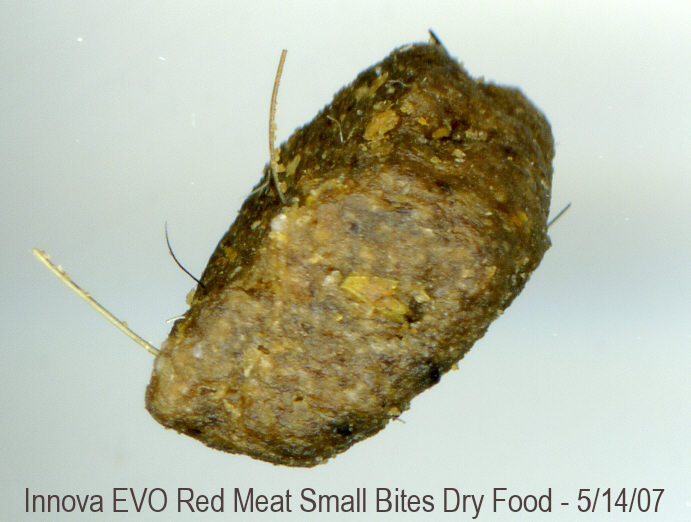 There were very sharp protrusions (stems from grains?) and hairs which is probably why my dogs had black diarrhea - it was blood from their insides being scraped with this stuff. This is supposed to be a grain-free food but it looks like there might be portions of grain in it. I would NEVER buy any food this company makes. If they are THAT out of touch with the ingredients and sources of what they are using, it does not matter what is said on their web site to sell their foods - the proof is what you SEE in the bags and how the dogs do. See it once, and in our case twice, and I will not allow Natura/Innova to prepare food for MY dogs again no matter how many apologies they make for their mistakes! In all my years of feeding Nutro's Natural Choice High Energy before it went bad, I NEVER ONCE saw anything sticking out of it - it was the same clean-looking food bag after bag. One thing I judge a dry food by is consistency. Also, upon talking to the local owner of a natural foods pet store, he said he had had seen plenty of problems with Innova foods and pointed to the shelves and said that he was phasing their foods out.
Dec 2009 - One of my Vet Techs said she found a dead mouse in a can of Alpo food she opened - yes, really!
March 2008 - A story from a pet food store employee: "I've also personally seen nails baked in Natura biscuits that people have returned to our store. Work in the pet food business for a while - every company has dirty little secrets. There is a very good reason that none of my animals eat kibble, and that reason is that I've seen issues with every single "good" kibble out there". (a Pit Bull owner in Bend, Oregon)
Feb 2008 Someone I know found this and sent me a picture of it - a latex glove packed down tightly in her can of Canidae dog food - how ick is that??? This was not a paste-up or hoax picture as it was from someone I knew.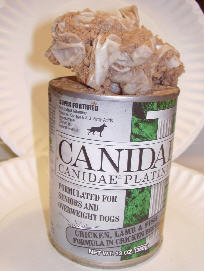 June 2008 Here's an unbelievably sharp piece of salmon bone in a kibble of Orijen's Puppy food found June 2008. It was sharp enough to draw blood easily (how about this sitting in a puppy's tummy??!!) The company replaced food that was from their bad lot numbers, but this was found AFTER the bad lots were made. This lot number was 82948 and the bag was dated July 11 2009. A photo of this kibble was sent in to them and they said they'd look into it and possibly replace this bag. After a very long wait, they did apologize and offer to replace the bag. However, the next bag had the same problem. Three years later I have re-evaulated their foods, and I have found no signs of these probloems, hence I have forgiven them in light of the dedicated efforts they have made to solve the problem, the quality and sources of their ingredients, and how well the dogs do on their Acana line of foods.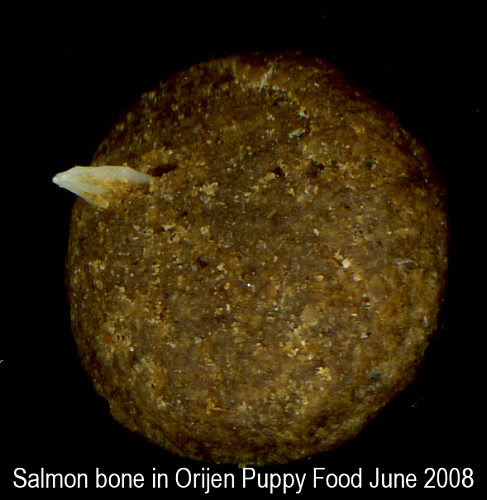 ---
Homemade Foods For Dogs Are The Best Way To Go! Recipes For Dogs Are Easy!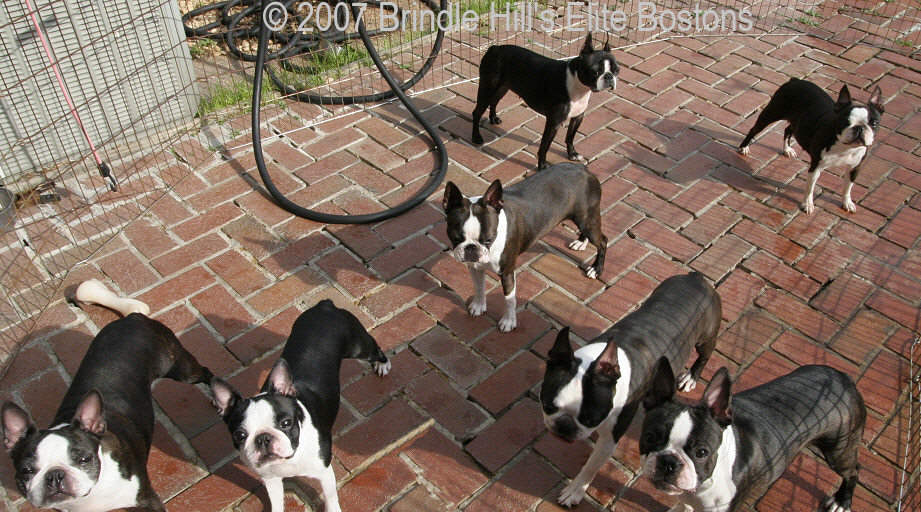 Happy, naturally fed Bostons!
You can see their great body and coat condition here. There is no commercial dog food in their diet.
It's time you take full control over what your dog eats - then you do not have to worry every time you feed your dog what they are really getting. If you want to do the VERY BEST you can for you dogs, cook for them! Do not believe that you cannot do it - that only dog food companies know what's best for dogs. You can do MUCH better. When you cook, you KNOW what they are getting. You will not have to worry about unknowingly killing your dog with food that has been tainted. These Bostons are not just our pets, they are family. They deserve to eat what we do. The dog food industry just started out as a way to make use of leftover grains, animal carcasses and baked goods that were not fit for human consumption during the depression. Today, that mentality still exists as dog food companies "research" ways to add various supplements to inherently non-nutritive base foods, most of which remain largely undigested and result in too many stools a day, especially in our Boston Terrier breed. Many dogs have health problems and allergies as well. But if we start with fresh, nutritious foods designed to work in unison with a dog's digestive makeup, we can supply a much higher level of nutrition than what we find in a bag of dog food, no matter how expensive the food is and no matter how great those label ingredients read. I think we have to re-train our minds to realize that dogs don't need dog food, they need GOOD food that we can be in control of and purchase ourselves as we would for the rest of the family. Portions can be made up ahead and frozen so you do not have to prepare it every night. Look to your own supermarket for recipe ingredients - ground beef, lamb or chicken (cooked) are great base foods. Organic meats are even better if you can afford them.
That's what we are doing at Brindle Hill. We are no longer feeding commercial dog food. I am cooking for my dogs as this is the only way I can be sure they are going to stay safe. We cannot live at the mercy of corporate America and the greed that has caused this whole recall thing. This was a personal choice of ours and we ask that you too at least consider it, especially in light of what we have learned about letting others prepare food for our dogs. Our rule of thumb is: "If you are not prepared to eat it yourself, do not feed it to your dogs".
Food safety: Ideally, meat must be cooked to at least 160 degrees F to kill the bacteria. See this heart-wrenching story of what feeding a lower quality ground beef-in-a-roll did to a fellow Boston breeder's dogs here. Also, here is an excellent scholarly study entitled "Bacteriological evaluation of commercial canine and feline raw diets". if you are concerned about bacteria in raw foods. Most dogs do not have a problem with the bacteria, but the quality of the meat you use and how it is handled and prepared has a lot to do with keeping dogs safe on raw.
It costs me a little more than feeding commercial, but again, we have chosen peace of mind and safety over economy or convenience for our dogs. They are all doing great on the recipe we developed (cooked, not raw) and have many fewer stools (and they are firm), so we feel really good about it. It is grain-free and gluten-free. We honed it down to just 4 ingredients plus vitamin/mineral and oil supplements, so it is easy and I only have to prepare it every couple of weeks. If you want to do it fresh and not freeze portions, it can be kept for 5 days in the refrigerator. 1 cup of our mixture supplies a very nutrient-dense 600 calories/cup. Protein supplied using a dry weight analysis is 37%, fat is 25%, fiber is 1.8% and carbs are 36%. Total time in the kitchen is no more than 30 minutes to fully cook and assemble what I need (beef & lamb versions). I only have one pot to clean. None of the ingredients need any cleaning, cutting, peeling or any other preparation. 3 ingredients plus oil supplement are purchased at Sam's Club and Costco 1 ingredient can be found at Wal-Mart or any grocery store. I actually look forward to the whole cooking and feeding ritual now.
I have also developed a chicken version of the recipe for those who prefer using chicken or whose dogs like chicken better than beef. The standard chicken version supplies 433 calories and contains 39% protein, 21% fat, 1.9% fiber, 38% carbs. For dogs with allergies, we also have a lamb recipe. This supplies 33% Protein, 31% fat, 1.7% fiber, 34% carbs and 658 calories per cup.
All diets contain the proper ratios of calcium to phosphorus, zinc to copper and omega 6 to omega 3 fatty acids - all very important factors in providing a safe diet that will make them glow. We have had blood tests done on our first dog and the results came back with all values normal, showing that our dogs are eating a diet that meets the demands of our active Bostons. It shows that their organs are functioning well and that there are no deficiencies or excesses in the diets. I have spent months reading the National Research Council's textbook on the nutrient requirements of dogs (a lot of math is involved - I had no idea how much till I got into this!!) along with another huge veterinary nutrition text and many other books and resources. I have gone into more detail with my nutrients than even nutritional consultants online have done - I asked one about iodine levels in certain foods and she had no idea - just told me "most foods have enough". Answers like that don't sit well with me, so I realized early on that I was on my own as I formulated the diets. Even the

site run by Board Certified Veterinary Nutritionists sells diets that don't make sense - their beef and potato diet contains a HUGE amount of potatoes and a TEENY amount of meat - how can they not know that dogs need more meat than carbs? I paid $60 to try their recommended package, but the amount to feed was so large that none of my dogs could finish the portions of mostly potato, and I felt like an idiot handing them all this potato and hardly any meat - common sense just said no, this ain't gonna fly. I also bought their

canine vitamin supplement that they sell to go with the diets they sell to you, and there aren't even exact amounts of vitamins and minerals on the label - it just says a "minimum" of....Well, anyway, I knew I could do better, so I set out to concentrate the nutrients more like what you would find in dry dog foods before thay all went bad (giving the ability to feed less) and I also wanted to give them a decent amount of meat! I have run my own feeding trials and I have had other breeders "beta testing" along with me too. This is how my "Dog's Alive" diets were born - through a labor of love and a lot of hard study - even two of my vets asked if they could use my diets for their clients!

More information on ordering my diets is here.

July 2008 - I have the pregnancy version of the diets available. This is what I used on my own bitches while they were pregnant.

NEWS FLASH!


The first litter of puppies born to a dam who ate only the recipe I developed during her pregnancy has been born! "Dharma" owned by Bryan Craven and Phyllis Kahler of Cedar Rapids, Iowa, delivered 5 healthy girls by c-section July 26! We are very proud that Phyllis fed our recipe and supplements to Dharma, proving that the diet is safe and effective for reproduction. Phyllis says:

"She has plenty of milk for the babies. They are growing well and have fat, filled tummies. I'm very happy with the condition of Dharma. The vet said as she stitched her up from her c-section that she didn't have all the fat that is usually in the way but she was active and very shiny and is doing well. The puppies were all uniform in size and active from birth. Their weights were from 5.4 to 6.8 oz each".

See pictures of the babies below:

5 hours old: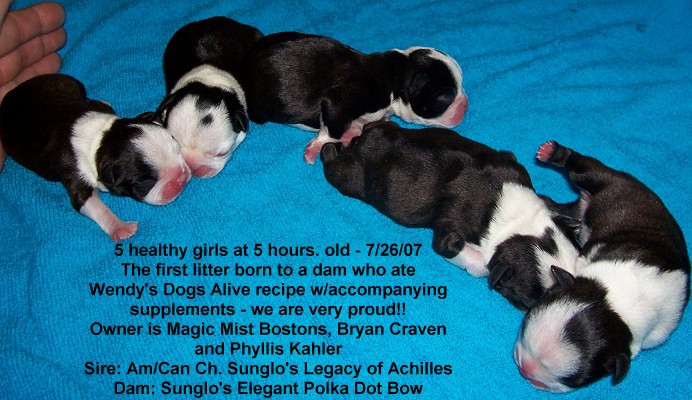 5 days old - getting fat already: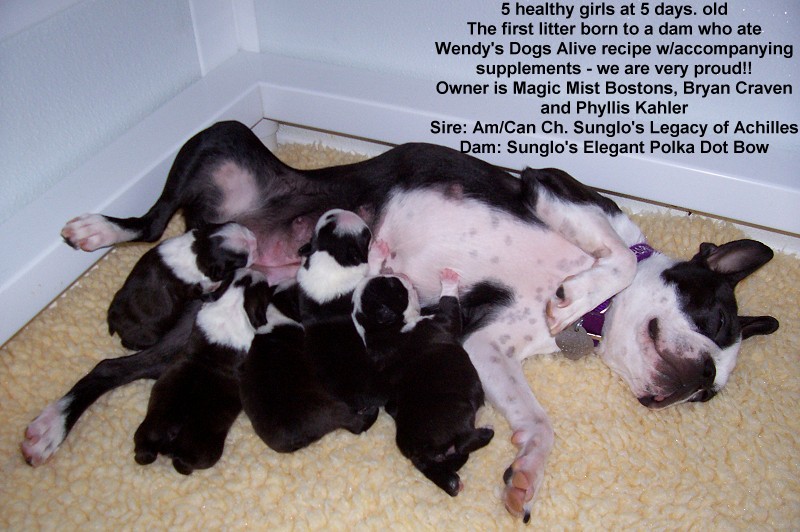 After Phyllis Kahler had her litter, I had 2 litters on my diet and you can see one of the pups in the show ring here! Both dams ate it while pregnant and all pups were weaned on it and are still eating only my fresh foods. None have ever eaten dog food.
Watch Baby Grow!
Here are some pictures of one of my pups growing up through the major growth periods on my diet. So far I have raised a total of 4 litters of my own on my diet and they have all done wonderfully.
---
Raw Feeding
2-12-2010 - Another raw food recall: "Nature's Variety Issues Nationwide Voluntary Recall On Raw Frozen Chicken Diets With A "Best If Used By" Date Of 11/10/10 because these products may be contaminated with Salmonella" See the full story here
Feeding raw is very popular now, especially since the 2007 recalls. Some people have concerns about feeding raw food, and I am sure you already know what these are. If you are feeding a commercial raw diet, you also have to worry about freeze/thaw cycles when purchasing frozen commercial raw as it travels from slaughterhouse to dog food factory, to distributor and to the store (and maybe other places in between). You have no idea how it was handled prior to purchasing it. Not to mention the sources for their meats. And the costs - raw commercial is very expensive. Below are some thoughts on commercial raw. I personally recommend that you make it yourself and that you do not buy commercial raw. IMO, if you are going to do it at all, do it right. See below for my NEW Dogs Alive Raw Diet Feeding Guide based on my years of test feeding my dogs.
If feeding venison, please note that a large population of deer and elk have CWD aka Chronic Wasting Disease and tuberculosis. The USDA recalled (2/9/09) elk tenderloin found at a "rare meat store" because it was sourced from elk with CWD. Do you really think when you buy raw venison that it comes from a nice clean shiny spotless slaughterhouse, fresh from the "organic deer farm"? Have you ever seen a large commercial "deer farm"? So that leaves what - maybe Primal or other dog food companies are raising their own deer or are buying from people who do? NOPE. Their web site does not disclose where they get their venison from. I'll leave the rest of the possibilities to your imagination. Let's just say if I don't know where they come from, I WILL NOT feed it to my dog. If it's not sold in a human grocery store, I will not feed it to my dog. A good example of shady business practice is found right on Primal's site. On their FAQ they say "Q: Are all of the raw materials used in all Primal formulas human grade? A: Yes, all raw materials used in Primal Canine and Feline formulas are 100% human grade and human edible. Then on their ABOUT/COMMITMENTS page, they say "All Primal Pet Foods Products are produced and sold for Animal Consumption Only." Just to get you thinking...
A raw food company says:
"Our lamb and beef are imported from Australia and New Zealand"
Translation/Fact: It's cheaper to buy meat from Australia and New Zealand. You don't think they would go to those lengths unless it was cheaper, do you?
"Our poultry is antibiotic-free"
Translation/Fact: No poultry sold in the US is allowed to be treated with antibiotics, period.
"Our raw vegetables are Grade A fresh and washed prior to processing"
Translation/Fact: We want you to think we are supplying you with a clean, safe product. Unfortunately, washing doesn't kill salmonella. Not all dogs will have a problem with salmonella, but vegetables CAN be blanched before feeding to be safe, not to mention that dogs can't break down the starches when they are fed raw vegetables in certain forms. The nutrients in vegetables CAN be utilized if the vegetables are finely pureed or in the case of starchy vegetables, cooked.
"We never use preservatives, additives, or artificial ingredients or colors"
Translation/Fact: Other than natural preservatives such as vitamin C and E, there are FEW IF ANY dog food companies using any additives, artificial preservatives or colors anymore anyway.
The other thing that perplexes me is that many of the people who feed raw do so because they want to get away from commercial foods containing by-products, BUT the whole BARF/raw diets concept uses almost nothing but the by-products of the animal - such as chicken necks, backs, and feet (Oma's Pride sells duck feet, tongue, frames/carcasses, tracheas and turkey tails.. Primal does too) It must be nice to base your pet food company on all the leftovers from the human food world. This is NO DIFFERENT than what the dog food companies have been doing for centuries, causing everyone to get up in arms! I am not speaking of the raw you make yourself at home from quality ingredients - but common sense says you need to be feeding quality part of the chicken, not just a few leftover parts which is what you find in most commercial raw.
NEW 2012!
Since there is a strong interest in feeding raw, I decided to release the results of my research and testing of raw feeding on all of my dogs in depth and offer my results as my RAW Dogs Alive Feeding Diet Guide. Sure I have watched videos online, read sites, asked people doing it, but nothing took the place of digging-in and doing it myself. It was frustrating, scary, messy and time consuming - and each time I finished a batch, I swore to everyone that I would NEVER do it again! But I'd take some time off, think some more, then forge ahead, making modifications that made it a lot easier. The resulting guide will address some of the factors that concern people about feeding raw. One thing I will tell you is that feeding COMMERCIAL raw is definitely out - you must serve your own meats to have control over what your dog really gets. I have come up with ways to actually lower the chances of bacteria using procedures that have been shown to work in university studies. Also, I offer my own way of combining foods that are practical and as easy as safe raw feeding can get (raw is more work than cooked IMO). Additionally, I discuss grinding techniques and share my experiences on a number of different grinders that I have bought. No, this is not a prey-model diet, it's my own safe approach to raw feeding. It is my own way, not the "only" way or the "best" way, they are just the procedures I worked out that address some of the raw food safety issues that concern so many people. It also has a suggested menu for dogs dealing with cancer. I have used this on my own dog who has had cancer - she is still with us and it's been over 3 years! See my page here to order it:
---
See Dr. Karen Becker's video on feeding raw below
---
Commercial Dry Dog Foods
If you still want to use commercial dog food despite all the horrors of them and their poor history, here are some companies I have researched. Note that your dogs will poop A LOT MORE ON THESE FOODS as opposed to cooking or raw. Try and find a company who manufactures their OWN FOOD and does not contract out to others. This is rare these days. Look for foods that have NO GRAINS in them. The problem is not in finding a label that "reads well" as many do such as Wellness, it's finding out WHAT THE SOURCES OF THEIR INGREDIENTS ARE - WHERE THEY COME FROM. Can they produce proof that their fish meal (especially fish meal) is ethoxyquin free BEFORE THEY GET IT? It is required by law that fish being transported away from where it is caught be preserved with ethoxyquin, a very bad commercial chemical preservative made by Monsanto. This is so that the oils in the fish are not flammable during transport. But the dog food companies do not have to disclose this on their labels - because THEY didn't add it, it was in the fish before it got to them. So for all of us that think the use of ethoxyquin in dog foods as a preservative is a thing of the past, it's not! Virtually any ingredient termed as "meal", especially fish meal if made in the US, contains ethoxyquin. So ALWAYS think about these issues as you choose and research (something other pet food rating sites don't take into consideration, nor do they do real-world tests on their foods before they give out their 4 or 5 star ratings. They go purely on ingredient lists and math. I have done actual feeding trials with multiple dogs over many years).
And even if a dog seems good on a certain commercial food, I absolutely believe the poor quality ingredients from questionable sources it contains will take their toll on the dog's organs over time and cause a shortened lifespan. Purina Pro Plan is one of these foods (dried animal digest is an ingredient, plus lots of corn). I see a number of dogs who look pretty good on this food, but over time I see them have bouts of illness and down the road health problems such as kidney disease and cancer that might have been prevented if the dog had had a lifetime of cooked or species appropriate raw foods. I am not saying that certain brands of food causes every disease, I am saying that I have watched trends over time and I see dogs living longer when their owner's do not feed them commercial pet foods. If we can tip the scale sin our favor, shouldn't we try? Again, understand that no US pet food company will use first quality meats or vegetables in their pet foods because they could not make any money as they would be too expensive. The only way you can assure yourself of first quality is to supply it yourself. Yes, they can say "human grade" or "human quality" but they will be always (at best) seconds such as blemished produce, pesticide laden or worse... I cook and buy all the best organic produce and meats and while it is affordable, it is less-so than most commercial dog food. But to me, the dogs are well-worth the cost and small extra effort. And zero vet bills are a huge incentive to cook too!
There is only one company I know of that discloses WHO they buy their ingredients from and also shows the inside of their plant - and that is the Canadian company called Champion Pet Foods. They make Acana and Orijen dry foods which can be found at better independent/boutique pet food stores. I have spoken to the owner a number of times and have been very impressed with the care they take in making the food and handling customers. Watch their very impresive video on their manufacturing and procuring of ingredients on their main page by clicking on the picture link that says "View Champion Video here" under the orange Made In Canada sign. NOTE: They use FARMED salmon, not the preferred wild-caught Alaskan salmon. More info on Champion is below.
If you prefer to feed dry, consider using "human food" to add in with any dry you use. Some leftovers from dinner such as chicken meat, potatoes, cooked greens, a couple of TB of blueberries (I like the wild organic kind if you can find them - wild does not = organic, so read labels), a Tb chopped up apple, 1 Tb plain yogurt, a sardine, some canned Alaskan wild salmon, anything REAL and fresh to add some additional enzymes that have been lost in the cooking of dry food. If you want to get more purposeful with your extras, grind some boneless parts or whole raw chicken and add a little of that either cooked or raw if you have a grinder (do not ever used pre-ground chicken raw, cooked is ok). For $50 you can get the grinder attachment for your Kitchen Aid mixer if you have one and that grinds meat without bone very well. Costco has organic fresh chicken parts very reasonably priced, and whole organic chickens w/organic giblets for only $2.99/lb. Cut the chicken up and use some for yourself and some in with the dog's dry. Ground grass fed beef cooked is fine too. Make it up ahead and freeze in portions that can be thawed in the refrigerator the day before you need it. Just embellish your dog's dry food with fresh food instead of buying canned dog foods so that some life can be added back in.
In general, try and find a dry food with a minimum of 30% Protein and 20% fat as you can as Bostons need these higher levels of nutrients. Unfortunately, most do not make formulas close to this. I do NOT use the useless past listings from the Whole Dog Journal to list foods from nor the dogfoodanalysis.com site. I go on my own experience and knowledge here on my site. WDJ and dogfoodanalysis.com have not fed any of the foods and reported results to the public and they base most of their recommendations on whether or not a company will tell you where their food is made and also by also just reading the ingredient list. As you see on my page there are actual facts gathered from using many of the foods, something that cannot be gotten unless you buy and feed it. Innova and EVO are good examples - everything looks great on the outside as their ad campaign is very tempting, but actual results from using their products is a whole other story....Whole Dog Journal also recommends that you give your dog variety when doing raw or cooked - this is the "shotgun approach" which I mostly disagree with - but this is done when one doesn't do their homework and gather all the data related to nutrient levels needed as per the NRC for different weights and ages of dogs. The main problem with their "varying the diet" theory is that many dogs, and certainly Boston Terriers, cannot be thrown different foods all the time - their digestive system is very sensitive and they really do need to eat the same thing each day (with a few additions IF the dog will tolerate it and you feel it's useful) as long as it's properly balanced. I know of no Boston who could tolerate daily food changes. WDJ does not take into consideration different breeds, they only speak from their own perspective ie going on the dogs that they have owned. It's really dangerous to put info out there like this that has not been well researched and tested first. I spent a year developing my Boston diet and since a Boston is the lowest common denominator in terms of fussy stomachs (if they can eat it ANYONE CAN) my diet will be safe for dogs who don't have fussy stomachs too.
Grain Free Dry Dog Foods
Champion Pet Foods They make Acana and Orijen foods, and they tout their high quality and locally obtained ingredients. They use 75% meat and 25% fruits and vegetables with no grain (Orijen and certain varieties of Acana) and they contain very low carbs. Their foods are distributed AND manufactured by them (a family-run Canadian company in Alberta) and are vailable to us in better boutique pet food stores here in the US and in many other countries). Unfortunately, I have found that their Orijen line is too rich for Bostons, but certain Acana formulas with grain are ok. NOTE: The salmon they use in certain formulas is NOT wild-caught Alaskan salmon, it is FARMED SALMON. Just because they say "fresh salmon delivered to us every day" doesn't mean it's from the best source. The company told me it is farmed. Farmed also usually has coloring added. It is never advisable to eat farmed salmon.
Taste Of The Wild NOTE: MAY 2012 Recall! - Grain-free dry foods include roasted and/or smoked Bison, lamb, chicken, duck, quail and venison as protein sources, depending upon the formula. They have two 32/18 formulas and their fish formula is 25/15. Now made by Diamond Pet Food who has been involved with recalls. Stools are terrible and smell REALLY BAD. After they got sold, they cheapened the ingredients. I tested it after they sold (what is currently available).
Wellness NOTE: MAY 2012 Recall! They have a long history making dogs sick including mine and no Boston Terrier I know of has ever looked healthy or had normal reproduction while on it. This company is a prime example of one who has a gorgeous ingredient listing on their bags BUT THE QUALITY OF THE INGREDIENTS IS TERRIBLE and the dog's condition is very poor as a result. Everyone I have cautioned about it defended it, then later on quietly changed brands as they too saw what it was doing to their dogs. Check out this video one Wellness customer made. He is so right when he talks about trusting a company that says one thing but does another:
Petcurean They have a food called "NOW! Grain Free" and one called "GO! Natural Grain Free" (chicken/turkey/duck). They claim "no rendered meats". However, their foods have been recalled in the past:
Link to the JAVMA recall info
Also
In October of 2003, the FDA issued a voluntary recall of all Go! Natural pet food manufactured in Texas and owned by Canadian company Petcurean Pet Nutrition, Inc.
After 13 cats and dogs got ill, included six that died, Petcurean investigated the chances of its food being the cause. Symptoms of the animals were rashes, vomiting, reduced appetite and jaundice. Liver failure was the cause of death.
On January 12, 2004, the owners of the pets who died filed lawsuit against the parties involved in producing and distributing the food in the case Hanrahan et al. v Petcurean Pet Nutrition, Inc. et al.
Heather A. Foster, partner at Lieff Cabraser Heimann & Bernstein, LLP, said, "Petcurean and Pet Food Express touted the high-priced Go! Natural pet food as a premium product that was one of the 'healthiest pet foods in the world.' We believe the evidence will show, as alleged in the complaint, that Go! Natural contained substances toxic to animals and this is why so many pets have died."
BG (Before Grain) - Made by Merrick, they have Bison, Chicken and Salmon formulas. The formulas all contain Acai and blueberries. Unfortunately, other than the first ingredient (Buffalo for example), the rest of the dry foods contain chicken and turkey proteins - so they are not useful for avoiding certain proteins due to allergies. They also contain yeast which is very allergenic for dogs. The canned foods are 100% single meats though. They have a canned green tripe. Here are some experiences people have had with Merrick:
March 2008 "Unfortunately, I'm one of "those people" who doesn't believe it 'til they see it...and I have seen the Merrick issues first hand. Do you remember when their Wingalings were recalled b/c they ALL had metal staples in it?" A customer in Raleigh, NC
March 2008 "I'm assuming there is a lot of dislike for Merrick due to their continuous quality control issues. People finding pieces of loose metal in their cans of dog food, or pieces of loose plastic chunks. I've heard of it happening on at least 4 separate occasions. I know someone who sent me pics in September or October 2007 of a nice sized chunk of metal she found in her dog treats." ellaslead.com
Solid Gold Their "Barking At The Moon" formula is grain-free. I have used this and it was fair - again, stools weren't great. They did recently change the formula though and cheapened it...I also hate the advertising techniques of this company..
Timberwolf Organics Wild & Natural They do not manufacture their own foods and will not tell the public who does manufacture them...what are they hiding??? Also, none of their products are organic - so what's with their name???
Nature's Variety Instinct - Grain free dry and canned. NOTE: These foods contain a fiber source called Inulin which causes diarrhea in some dogs. From a pet store employee in Bend, Oregon "Nature's Variety has been getting kibble put in wrong bags and having VAST colour variations in the kibble which is causing stomach upsets in dogs."
---
Dry Foods That Contain Grains (and no by-products) I consider these foods "same old, same old" category of foods, possibly 1/2 step up from the dreaded foods from the big buys (Purina, Iams, Nutro, Hills)
Nature's Variety Prairie - Dry and canned. NOTE: These foods contain a fiber source called Inulin which causes diarrhea in some dogs.
Petcurean This brand was recalled a few years ago, see other entry above for more info.
Merrick Dog Foods They say they manufacture their OWN FOODS IN THEIR OWN FAMILY-OWNED PLANT. They have not been involved in any of the recalls thus far. They are not high in protein and fat for the most part except for the Puppy Plate. Canned varieties also, however, some people have had bad experiences:
March 2008 "Unfortunately, I'm one of "those people" who doesn't believe it 'til they see it...and I have seen the Merrick issues first hand. Do you remember when their Wingalings were recalled b/c they ALL had metal staples in it?" A customer in Raleigh, NC
March 2008 "I'm assuming there is a lot of dislike for Merrick due to their continuous quality control issues. People finding pieces of loose metal in their cans of dog food, or pieces of loose plastic chunks. I've heard of it happening on at least 4 separate occasions. I know someone who sent me pics in September or October 2007 of a nice sized chunk of metal she found in her dog treats." ellaslead.com
Fromm Family Pet Foods Owned and operated by the 4th generation Fromm family from Wisconsin. Fromm began making premium pet food in 1949. In the 1930's they introduced the first distemper vaccine. Check out all of the "Four Star" varieties and the Puppy Gold. I have used the Salmon A La Veg, Puppy Gold and Chicken A La Veg and they weren't bad. The food also looks pretty clean. They say all canned food is 100% human grade, hand-packed in a human food facility - but I wasn't too impressed by their canned foods...I have recently heard that their canning takes place in China as well as the US - you would need to verify this with the company.
Solid Gold Just A Wee Bit (Bison and Salmon) A fair food, I have used it for puppies, but they were never too thrilled to eat it so I had to try something else.
Natural Balance NOTE: MAY 2012 Recall of dry foods only ! Their Duck and Potato is not a bad food - both canned and dry. Since some of their foods were recalled in 2007, they now test their foods and results are on their site. I did find a piece of Saran Wrap in a can recently which could have suffocated a dog had they eaten it - ah well, what are you gonna do...it's always something... The up-side is that they are REALLY serious about testing all of their foods for contaminants after the recalls in 2007 - see more info here. The dry is pretty low in protein, fat, and calories, but for some reason certain dogs eating it tend to gain weight. Maybe it's because it is more digestible in general than other dry foods. I have used the canned on extremely fussy dogs with success. It is also a food that can be used on dogs who are having seizures as it follows the GARD principles. I know a number of dogs that had their seizures stop when put on this duck and potato formula. If my new puppy owners don't want to cook, I recommend that they feed the canned duck and potato. They will have more stool on it and it will be less firm, but it's a pretty high quality food for a commercial one. I'd prefer canned over dry, but either will do. It USED to be called Duck and Potato, now it is Potato and Duck - yes, they made potato the main ingredient and not duck...
Castor and Pollux Same old, same old..
Canidae - Feb 2008 Someone I know found this and sent me a picture of it - a latex glove packed down tightly in her can of Canidae dog food - how ick is that??? This was not a paste-up or hoax picture as it was from someone I knew.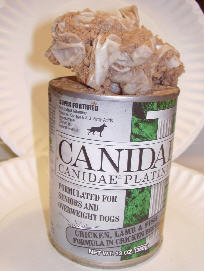 Other Foods (dehydrated, frozen raw, just-add-meat, mass-marketed etc.)
Fresh Pet Select This food has also been called Homestyle Select. It is a slice and serve fresh pet food sold in refrigerated cases in certain grocery stores (Bloom) and select Super Wal-Marts. I got a free roll with a coupon and was impressed with the quality. Shortly after I started using it to wean puppies on, they seemed to stop cooking the rice and peas in it and it was clearly indigestible (dry rice and peas coming out in the stools) I contacted them but all they did was send me coupons to buy more of it. 6 months later the food still had dry rice and peas in it so I gave up on them ever addressing this problem. I understand how they "lightly cook the meat" but dogs cannot digest hard dry peas and uncooked rice! It's a shame as the quality WAS quite good and it contained very fresh, good and simple ingredients, being made in a plant they own themselves using rigorous sanitation methods. The only down side was that they lost some weight on it so you would need to feed a lot of it to keep the dogs looking good. This is the problem with low carb foods. They did add a new product called Fresh Bites and these are much better, though probably only appropriate if you have 1 or 2 dogs because of cost and packaging. I buy these and freeze them and use them as bait for the show ring and training. They are like little meatballs and the dogs like them.
Sojourner Farms You add fresh meat, they supply the rest - and "the rest" are dry ingredients that are human grade and organic in the case of Monzies - Europa is air dried vegetables and fruits. I have used both of these together with added COOKED beef or chicken I make (even though they suggest raw),a little cheese, cheddar or cottage and a vitamin supplement. Unfortunately, my dogs never had good stools on it. They do better on dehydrated food than air-dried.
Stella And Chewy's - dehydrated raw diets, also frozen raw certified free of e-coli and salmonella. I have tried their raw food since it was tested free of e-coli and salmonella, but my dog instantly threw it up each time I tried feeding it to her (she ate it back down each time before I gave up after a few days). Also, her stools were white on it from excess calcium which I have heard can happen with raw diets. A couple other dogs I tried it on did better - though they lost a lot of weight on it, as most will on raw. I do appreciate their efforts to supply a product that is free of 2 major contaminants.
Primal Frozen Diets The worst thing I know about Primal is how the company handles its customer's problems - they don't! My friend had purchased Primal frozen raw beef patties and she thought they had an off-smell. There was a lot of ice on the patties and they were all stuck together even though they were separated by paper (indicating possible thawing at some point). He assured her that there was nothing wrong with the food. Now, how could he know this if he hadn't examined it? In this day and age with very serious problems in the industry where people are having to be extra careful about what they feed their pets, you would think he would have taken her concern more seriously - especially since its a newer company - they should be bending over backwards to satisfy customers and keep pets safe. She asked him if they test their meats for e-coli and salmonella. His response was a casual "no, not routinely". She told him she was NOT going to feed her dogs something that smelled bad. He still said there was nothing he could do to help her and that the food was fine! She asked him if he would take responsibility if her dogs got sick on their food - he evaded the question and would not commit. I think any company dealing in RAW FOOD for pets after everything that has happened needs to step up and show some concern for the animals here. She spoke with a guy named Matt (who later said he was the only one to speak to about this problem - I believe he's a co-owner or Primal). This company appears to be so concerned about their bottom line that they would risk illness in someone's pets rather than replace a bag of food! This was really unimpressive and if a company handles its customers this way, imagine what they could be doing with their manufacturing practices...I have seen the food and it is, well, green, not red and meaty looking. Plus they don't even use muscle meat in most of their products - just organ meat, bones, necks and frames. Other raw I've seen like Stella and Chewys's and Bravo Balance look like real red meat and don't smell weird. More info on them is above in the Raw Feeding section.
Aunt Jeni's - Not tested for e-coli and salmonella. Seems they just throw some "good sounding" ingredients together based more on what people think of the ingredients than what dogs need. Most of their foods have raw unpasteurized honey in them - presumably to lower any levels of bacteria. Dogs really should not be given sugars as they have no dietary need for them. It is supplied in smallish tubs and they are not patties which would make it difficult to portion out - and if you are feeding a number of dogs, forget it - it would be just too tedious and expensive because of the small portions they supply in each tub. My dogs didn't digest it well, it came out looking pretty much the same as when it went in.
---
Blue Ridge Beef - I have a problem with this company. It is based on an experience I had in 2008. Here is my story.
Back in September 2008 while researching raw food brands, I heard about Blue Ridge Beef and tried to locate it in my area to no avail. Apparently some cat breeders in the area sold limited amounts of it but at the time, they were out of it. I called the company and found out the Blue Ridge guy was coming up to a big national cat show right near here so I arranged to meet him and buy some frozen raw meat. They had a table set up there and he was also most likely making his deliveries to the local cat breeders who were selling it here in VA.
He had a truck with refrigeration and we went out to his truck in the parking lot. I told him what I wanted, paid him and as I walked back to my car I noticed some of the rolls were marked as having charcoal added. That sounded weird to me, so I asked him what this meant. His answer was something to the effect of "oh, you have to do that if you are traveling with meat across state lines". Huh? This was not a satisfactory answer for me upon thinking about it, so I ended up chucking the whole bunch when I got home. Later I found out that the USDA requires rendered meat not fit for human consumption to have charcoal added to it so it is obvious to anyone who might eat it - that you shouldn't eat it....
These kinds of things may not bother you, but it's just not what I wanted to deal with. I am tired of companies taking advantage of pet owners and always giving us the CRAP. They told me back then that they raised and slaughtered their own beef and that their main business was selling beef to restaurants. But now their web site says "Pets are our only business"... Here is a portion of the official USDA paper discussing some of this issue - the whole document can be found on the gov't site link I'll post at the bottom of this portion of the document. Charcoal is a "denaturant" as they define it here.
"Destruction There are three basic methods approved for making condemned and inedible meat products incapable of being used as human food. They are: -Rendering (314.1) -Incineration (314.3) -Application of approved denaturants (314.4)
Inedible rendering is a process by which materials are heated sufficiently to destroy them for human food. When the establishment has its own facilities to perform the rendering process this is termed "on-premises" rendering. Many establishments do not have such facilities. Instead, they may ship condemned and inedible materials to an outside rendering facility. This is referred to as "offpremise" rendering.
Tanking is when condemned product is placed in a rendering tank under the supervision of an inspector who would then seal the tank. Once the contents are heated adequately to destroy them for human purposes, the inspector will then remove the seal, thereby releasing it from his/her custody. This method is rarely, if ever, used today. Establishments that perform their own "on-premises" rendering today generally utilize hashers and/or pre-breakers as a pre-tanking preparation of condemned product. This gives an Animal Disposition/Food Safety: Post-mortem Inspection
1/27/12 Entry Training for PHV 39 inedible character and appearance to the product. For this reason, custody is not necessary once the material has been hashed. In addition, there is no requirement to use denaturant on this product to be rendered on-premises. However, prior to hashing, custody of the product must be maintained. This includes all equipment prior to the hasher. For example, if an auger is used to convey condemned material to the hasher, it must be covered and sealed or be located in a secured room.
Whenever condemned materials are to be shipped to another site, they must be properly denatured. This is true whether the material has been hashed or not. If the establishment doesn't have inedible tanking facilities and it does not send condemned product for off premises rendering, all condemned product must be destroyed (under inspector custody) by incineration or by the application of an approved denaturant. A listing of acceptable denaturing agents may be found in two sources: the Regulations and the "List of Proprietary substances and Nonfood Compounds." Before an approved denaturing agent is applied, the product must be freely slashed so that pieces are less than 4" in diameter. This allows the denaturant to contact all parts of the product. Denaturants change the color and/or odor of products sufficiently to destroy them for food purposes. In addition to any approved denaturant compounds found in the "List of Proprietary substances and Nonfood Compounds," there are three types of denaturants approved for use on product condemned to tankage. They are:
-Crude carbolic acid
-Cresylic disinfectants
-A formula consisting of FD&C green color No. 3, oil of citronella, detergent, and water
A different group of denaturants are used on inedible product condemned for human food but salvaged for animal food. This is because the above agents would make the product unfit for even animal food. Animal food denaturants include:
-FD&C green color No. 3
-FD&C blue color No. 1
-FD&C blue color No. 2
-Powdered Charcoal
-Any compound approved for such use in the "List of Proprietary substances and Nonfood Compounds" book"
http://www.fsis.usda.gov/PDF/PHVt-Post_Mortem_Inspection.pdf
Read this message board where they discuss denaturants (charcoal) in Nature's Variety and others:
http://www.dogster.com/forums/Raw_Food_Diet/thread/651276
---
Bravo! Raw Diets - They had a recall Sept 2007 of their chicken and turkey raw foods due to contamination with Salmonella and Listeria monocytogenes. They told me they test the food now, though it doesn't say this on their web site. They have a new formula called Bravo Balance that meets AAFCO standards. I found it very expensive for what you get.
Nature's Variety 2010 Recall of Nature's Variety: go here They sell Freeze-dried and frozen raw, also organic chicken frozen raw. NOTE: The freeze-dried raw versions contain a fiber source called Inulin which causes diarrhea in some dogs. A friend found large chunks of bone her dog almost choked on in her bag of frozen lamb. Upon inspecting other varieties, these too had sharp and/or large pieces of unground bone in them. The company did take care of reimbursing her for the food she couldn't use because of this. Why is nobody noticing this in many months worth of manufacturing? Here is a picture of the bone: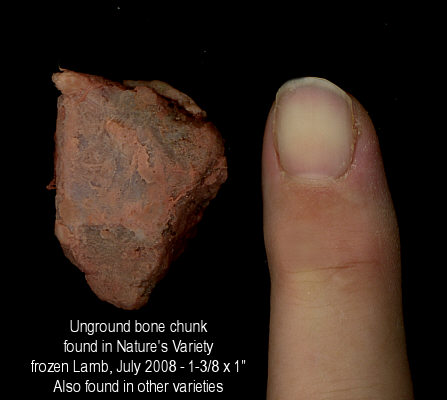 2012 - This is from the FAQ on their own site:
Do you source from China?
At Nature's Variety, our nutritional philosophy is to source the highest quality, safest, and most nutritious ingredients in the world. We look for our ingredients domestically first. In the case of rabbit meat, we've found that the best supply of high quality, human grade rabbit is found in China. Therefore, we are currently sourcing rabbit meat specifically for our raw and canned rabbit diets from a trusted supplier in China. To help ensure that our strict quality and safety standards are rigorously enforced, this rabbit meat is regularly inspected and monitored by the PhD food scientist we have on staff. Additionally, members of the Nature's Variety leadership team have personally visited and inspected the facility in China. We also employ extra testing (at an independent lab in the United States) to ensure that the rabbit is nothing short of our strictest standards for quality and nutrition.
Is your food human grade?
All of the materials used in our raw diets and raw frozen bones are obtained from USDA-inspected facilities (or meet USDA requirements in the case of imports) and from animals that have passed ante- and post-mortem inspection. Our quality control and quality assurance programs include but are not limited to: Sanitation Standard Operating Procedures (SSOP?s), Good Manufacturing Practices (GMP?s), a Hazard Analysis & Critical Control Points (HACCP) program, regular lot segregation, and other industry best practices. That said, our manufacturing facilities are used to produce pet food rather than human food, and since this is not in line with the USDA's definition of human grade, our foods cannot be classified as being human grade.
Where do your meat and poultry come from? (this is a non-answer if I ever saw one)
Nature's Variety is committed to using high quality, safe ingredients from government-inspected facilities. Our natural ingredients are continuously inspected for quality and tested for analytical compliance before being accepted at our facilities.
Read this message board where they discuss denaturants (charcoal) in Nature's Variety and others:
http://www.dogster.com/forums/Raw_Food_Diet/thread/651276
The Honest Kitchen - dehydrated diets. I cannot imagine feeding only this to a dog even though they say you can - it's a green slurry when you re-hydrate it. The banana chips stay hard when soaked and the dogs can choke on them. They advertise it as "dehydrated RAW" but food normally starts out raw before it is dehydrated. Dehydrating it does not leave you with a raw product, it leaves you with a cooked one. So calling it raw is really not accurate. BUT, it's not a bad food for supplementing cooked diets with (1 TB per cup of food) as it adds some meat, veggies and fruits in a way that's simple to prepare. Just make sure you remove the banana chips before rehydrating it. I have used their Embark formula successfully as an adjunct to my home cooking.
Steve's Real Food - raw and dehydrated diets. Both their raw and frozen diets contain rice bran. Who would want that in a dog food anymore? Also, dehydrating does not kill all bacteria if that bothers you - read the study I noted above "Bacteriological evaluation of commercial canine and feline raw diets".
Royal Canin - My Bostons don't do well on it and they don't really like it very well (the Special 30). They did have some foods recalled (mostly their Sensible Choice line and some veterinarian-sold foods). They did however handle the recall with a better attitude and more assurances of new protocols in place to keep this from happening again as compared to the other large companies. They reimbursed vets for gratis veterinary care given to dogs who were affected by their foods. They have not swept the problem under the carpet like Iams/Eukanuba has by gearing up with a huge ad campaign and offering free food.
Breeder's Choice - Nothing too exciting, their dry Pinnacle Chicken and Oats formula is available (not as high in protein and fat as some others), but have not been too thrilled with the Avo-Derm. I saw recently that Avo-Derm is being carried at PetSmart.
Canine Caviar canned beaver and turkey recalled 4/26/07. Do not feed!
Newman's Own Organics My dogs wouldn't eat this despite the good looking ingredients - the ingredient list does not tell the whole story....
HEALTH FOODS NOT RECOMMENDED: The labels read well, but the food is not good in my personal experience and the companies have troublesome histories: Nature's Recipe or Wellness.
OTHER FOODS NOT RECOMMENDED in addition to the ones mentioned on this page: Anything you buy in a grocery store or discount store (Wal-Mart, Target. K-Mart etc). Brands to avoid in a pet food store: foods by major manufacturers such as Purina, Nutro, Pedigree, Science Diet, Iams/Eukanuba, Bil-Jac and any foods that contain grains (rice, corn, oats, wheat and associated grain portions such as gluten, hulls, bran etc)
HAD ENOUGH? More information on ordering my diets is here.
---
But I STILL WANNA FEED DRY FOOD!! I am willing to take my chances! Don't you have a list of recommended foods?
1. Acana Chicken and Burbank Potato and Acana Duck and Pear (not grain-free). Acana Ranchlands is grain-free, but the quality varies and so may the stools. Bostons do not do as well on other Acana or Orijen formulas.
2. Nutro Natural Choice High Endurance (not grain-free), but the dogs do ok on it (2012) and stools are firm. Note that Nutro products have come under fire a lot in the past because they never admitted their dry foods caused kidney problems when problems arose and did have recalls on some of their wet pouch products (which they did own up to). This food can be used on puppies or adults. They have cheapened the ingredients as compared to when I solely used the previous iteration (called High Energy), so while you will probably see good results, know that long-term feeding opens you up to variations in quality and possibly ingredient changes. It is still better than Purina Pro Plan and Eukanuba, foods along a similar spectrum.