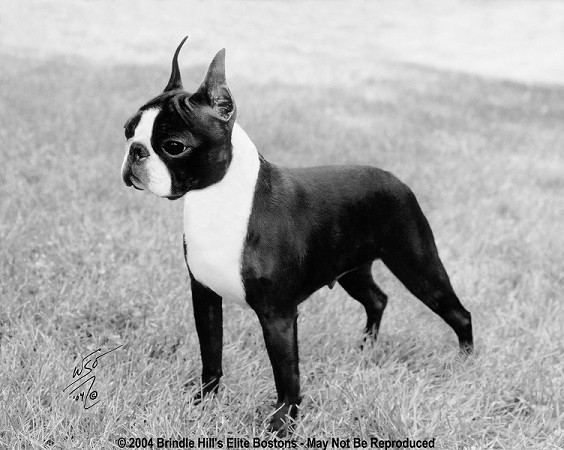 Ch. Elite's Trippin The Light Fantastic
"Dorene"

Click to see a head study and one stacked naturally at 9 mo. on the table.
Can't you tell she's a character? She is the FUNNIEST, most interesting and most mischievous dog we have ever had.
Dorene has been awarded the highest level of health
clearances for the Boston Terrier breed.


* BTCA Gold Health Certificate Recipient, 2003
* AKC Canine Health Foundation "CHIC" Registry #12123
* CERF #BTR-1318/2005-39
* OFA Patella #BTR-PA217/12/F/P-PI
* BAER Tested 10/2002 - Bilateral Hearing
* April 2006 - DNA tested by Animal Health Trust in England
for hereditary juvenile cataracts AHT #BJ18 - RESULT: clear (non-carrier)

Inbreeding coefficient in first 6 generations: .03%

Breeder/Owner: Brindle Hill Bostons

Dorene is BAAAAAAAD - just like her mommy! She is extremely smart and knows just how everything "works". She has unplugged the refrigerator multiple times, busts through any gate and can figure out how to open any ex-pen. She gets into the dog food bin, dumps the garbage can over, runs like the wind, and eats 2 cups of food a day to keep the weight on after all of this mischief making. As you might guess, getting her to walk on a lead in a straight line is more than difficult, but we are working on it.. Standing still, she looks like a little porcelain statue, and reminds me of some of the nice Bostons you saw in the 40's and 50's. Here's one that she looks a lot like her, and Dorene's lineage can be traced back to the Regardless line as well. Click here to see her.

Her brother in California "Ch. Elite Hollywood Nightlife" (Bruno) owned by Valerie Caccia finished his championship with 4 majors in only a few shows!
PEDIGREE:



Back to the Brindle Hill Chronological History Page.
Back to the Brindle Hill Complete Dog List.
Back to the Brindle Hill Main Welcome Page.